Apply for a Payday Loans Alternative
The One Stop Money Shop offers an alternative to payday loans, allowing you to borrow up to £1,000. So if you're looking for payday loans online, or payday loans no credit check, we can help you find a finance solution.
Our loans can be repaid over 6, 9 or 12 months. Our flexible repayment plan means you can spread repayment over several months, to allow you to pay off any bills and emergency expenses and improve your financial position.
Since being founded in 2002, we have continued to offer a personal and effective solution to customers looking to borrow money online.
Our online application takes just a few minutes to complete and there are no fees for applying. Upon completion, you will receive an instant decision, and subject to further checks, successful applicants should receive funds to their bank account within 1 hour or less.
How is The One Stop Money Shop different?
Many payday loans are designed to last for 14 to 28 days, and this can put pressure on an individual's finances to pay the full sum and interest when they are next paid. Here at The One Stop Money Shop, we offer an instalment loan product repaid over 6, 9 or 12 months, which gives the customer a lot more breathing space to repay their loan.
Happy customers appreciate the added flexibility of having longer to repay their loan and only paying smaller instalments at the end of the month. Plus, if you find that you are in a better financial position and would like to repay your loan early, you have the choice to do so, at any time. It will also be cheaper to repay your loan off earlier than expected, as you will save money on the interest that accrues.
When it comes to borrowing 6, 9 or 12 month loans, you are in control. We allow you to borrow the amount you need, as well as choose the scheduled pay date and loan duration.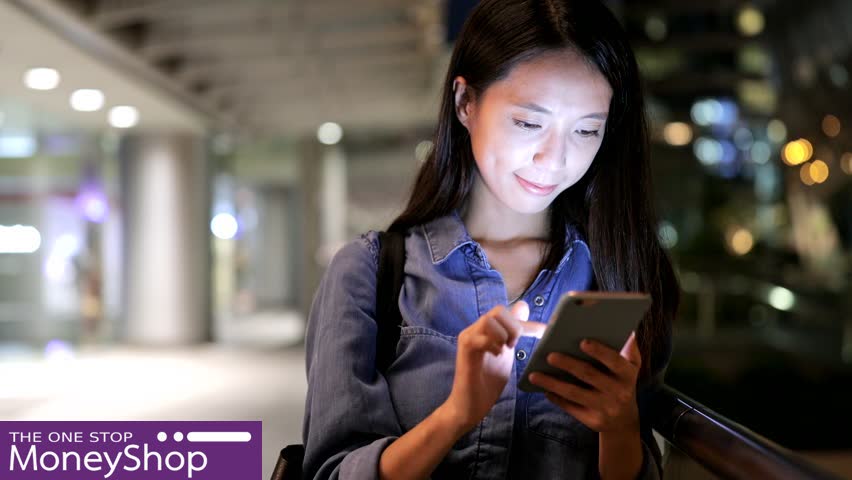 What is a payday loan?
A payday loan refers to borrowing money until your next payday. So if you have any pressing bills or emergencies and you cannot wait for your next pay cheque, this type of loan is designed to be fast, effective and used to tide you over until you get paid next from work.
With payday loans online, your repayment is scheduled on the day you get paid from work. You can therefore get the money you need upfront, pay off your bill, and when your payday arrives, you can pay off the full loan, alongside interest.
Payday Loans Online
One of the great things about short term loans is that you can apply for them online. This means that you don't have to leave the comfort of your own home, and simply need an internet connection to apply! We're here to take the hassle out of borrowing money – our application process is completely online, and you should get a loan decision very quickly.
With more traditional loans, such as bank loans, you may need to go into a local branch, or speak with a member of staff over the phone. But because payday loan alternatives are needed to cover emergency expenses, we've made the process as streamlined as possible.
When would you use payday loans online?
Payday loans should be used for emergencies purposes only, such as paying for car repairs, household bills, rent and other family emergencies.
As a comparatively expensive form of credit, they should not be used as a long term solution to financial problems, and shouldn't be used to pay off other loans, credit or unnecessary spending. If you do think that you're struggling with your finances, you may wish to contact a third party, such as Step Change, who can offer free and impartial money advice.
Can you get payday loans – no credit check?
If you have a bad credit history, you may be looking into payday loans with no credit check. But these days, with regulation from the Financial Conduct Authority (FCA), responsible lenders need to perform a credit check, as well as an affordability check. This is to ensure that borrowers are able to comfortably afford the due repayments.
And if you do have a low credit score, you can be assured that we will consider applications from people with poor credit histories. We understand that your credit history often won't be an up-to-date accurate reflection of your creditworthiness, as information stays on your credit file for six years. We focus on your current financial situation and affordability.
So if you're considering a no credit check payday loan, you don't need to try and find an unscrupulous lender who isn't authorised by the FCA. The One Stop Money Shop will consider your application even if you have bad credit.
Why use a payday loans alternative?
Payday loans have been a popular way to borrow money over the last decade, but unfortunately many people continue to find themselves caught up in this form of high cost loan. If not managed properly, it can often lead to a spiral of debt.
The role of payday loan alternatives has emerged significantly in the last few years, with companies such as The One Stop Money Shop providing a more innovative range of products, including instalment loans repaid over 6, 9 or 12 months. This gives borrowers a lot more control to stagger repayments and pay them off over a longer period of time, avoiding the potential payday trap.
Customers are able to choose a pay date that suits them, which is typically the day that they get paid from work, which for many is the last working day or the last Friday of the month. For others, it is on a four-weekly cycle or the 25th of the month. Customers can also repay weekly or fortnightly if they so choose. Choosing the exact date gives you control over when repayments are made and collections are made from your bank account – all you have to do is make sure that you can cover your payment and you're on track!
What is the criteria for payday loans alternative?
In order to meet the basic loan criteria with The One Stop Money Shop, you will need to:
Be a full-time UK resident
Be over 25 years of age
Be employed and earning a regular income
Have a valid UK bank account
Have an active UK mobile phone number and email address
Upon completing our loan application, if approved, you will be presented with an online loan agreement highlighting the terms of your loan including borrowing amount, loan term and interest rate.
As a firm that is FCA authorised, we must run a series of credit checks. This is to monitor any recent credit searches and transactions you have made and avoid giving you too much finance that you cannot manage.
This is coupled with our affordability checks to match the amount that you have requested to borrow and what you can afford to repay. Our checks are automated and carried out online, so that you do not have to post any information to us or fill in more details, as we want to ensure your application process is as straightforward as possible.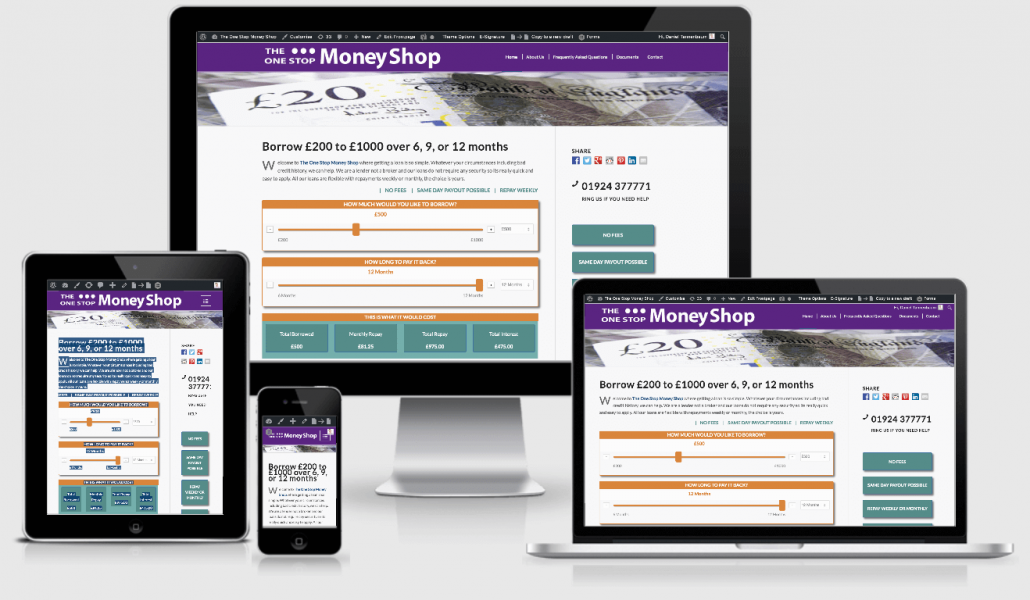 Is One Stop Money Shop a direct lender?
Yes, The One Stop Money Shop is a direct lender and we will be able to process your application from start to finish with no broker fees or other middlemen involved. We will be able to fund the loan into your bank account and take collections every month.
Every part of the loan process is handled by our team from beginning to end and you can rest assured that you are working with us only, and not any other companies. This also means that we'd never pass on any of your information to third parties without your express permission.
How do repayments work?
Your loan is repaid over 6, 9 or 12 months in either weekly or monthly instalments. When you apply, you can select a pay date for each week or month and this will be the most convenient time for you to make your repayments.
Since most people get paid on the last working day or last Friday of the month, they typically choose this as their pay date, or perhaps the day after, to allow their income from work to come through.
Our loans are designed to give you flexibility so that you have the breathing space to spread repayment over 6 to 12 months if need be – and you have the option to repay early at any point. There are no extra fees for doing so, and you can save money in interest.
Can I Apply for a Payday Loan Alternative With Bad Credit?
There are all sorts of reasons for a low credit score, and often it will be outside someone's control. For example, if you were to lose your job, you may be unable to keep up with your due repayments, and late payments would be reported on your credit file. As information stays on your credit report for six years, late or missed payments from years ago could also be affecting your score now.
Here at The One Stop Money Shop, we will consider your application even if you do have bad credit. We take more than just your credit history into account when making a loan decision, looking at things like your monthly income and expenditure too, to determine your affordability. So even if you've been turned down for a loan in the past, we may be able to help.
How can I apply for a payday loan alternative?
Our loan application is 100% online, and you can get started by clicking on the apply now button below. Borrowers can apply 24 hours a day, 7 days a week, including weekends. You can apply using a desktop, laptop, mobile or tablet, just as long as you have access to the internet!
You will be asked some basic information including your name, address, age, income, employment, monthly expenses and bank details – so we know where to send the funds if successful.
There are no upfront fees for applying and your information is held safely and securely through our website. Provided that you meet our criteria, The One Stop Money Shop will do our best to transfer the funds to your account within 1 hour. Simply click on the button below to apply for a payday loan alternative!
Useful guides about payday loans
What are the alternatives to payday loans?
What does it mean to have a loan in underwriting?